If you are from digital printing company, outdoor advertising company, sign making company and facade company you should get to know Aludream
Aludream is a reliable brand of aluminium composite sign supplier
Applications

1) Constructional exterior curtain walls, Wall Panel are widely used in exhibition, stores, offices, banks, hotels, restaurants and apartments;
2) Decorative renovation for storey-added old buildings, facades, roofing;
3) Indoors decoration for interior walls, ceilings, bathrooms, kitchens, balconies and subway;
4) Advertisement board, display platforms, billboards and signboards;
5) Wallboard and ceilings for tunnels;
6) Raw materials in industrial purpose;
7) Material used for vehicle bodies, yachts and boat
Product Structure
A LDPE (low-density polyethylene) core is attached in the middle of aluminum layers on both sides, which are with a coating. It is impact resistance and easy to maintain, thus it becomes one of the popular material for building facade, signboard and interior finishing.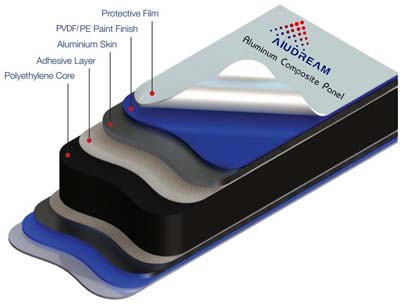 Product Specification
Width: Standard 1220mm&1250mm, options 900mm, 1500mm, 2000mm,
Length: Standard 2440mm,options: 3050mm, 5000mm, 5800mm, Up to 11500mm
Panel thickness:  3mm&4mm,options: 1mm, 2mm, 5mm, 6mm,7mm, 8mm,etc
Alu coil thickness:0.5mm, 0.45mm, 0.4mm, 0.35mm, 0.3mm, 0.25mm, 0.21mm,0.10mm,etc
Core material: Normal core/ Unbreakable Core/Recycle Core / Fireproof
Core Coating: PE, PVDF, FEVE, Nano, Epoxy coating,etc
Color: Solid, metallic, high gloss, digital printing, mirror,stone look,wood look,brushed,etc
Weight: 5-6.5kg/Square meters, based on 4mm thickness
Function: Fireproof, Mould Proof, self-cleaning, Anti-Static, Antibacterial,etc
Feature
It is a durable, resistant and light material.
It offers various color choices
It has an aesthetical and smooth structure.
High sound and heat insolation
It is 100% recyclable and environment-friendly.
It provides the best application with easy and convenient use.
High resistance against environmental conditions.
It provides the best results in applications.
Easy cleaning and maintenance
Color Card
Aludream Aluminum composite panel colors
Customized colors : PANTONE and RAL colors available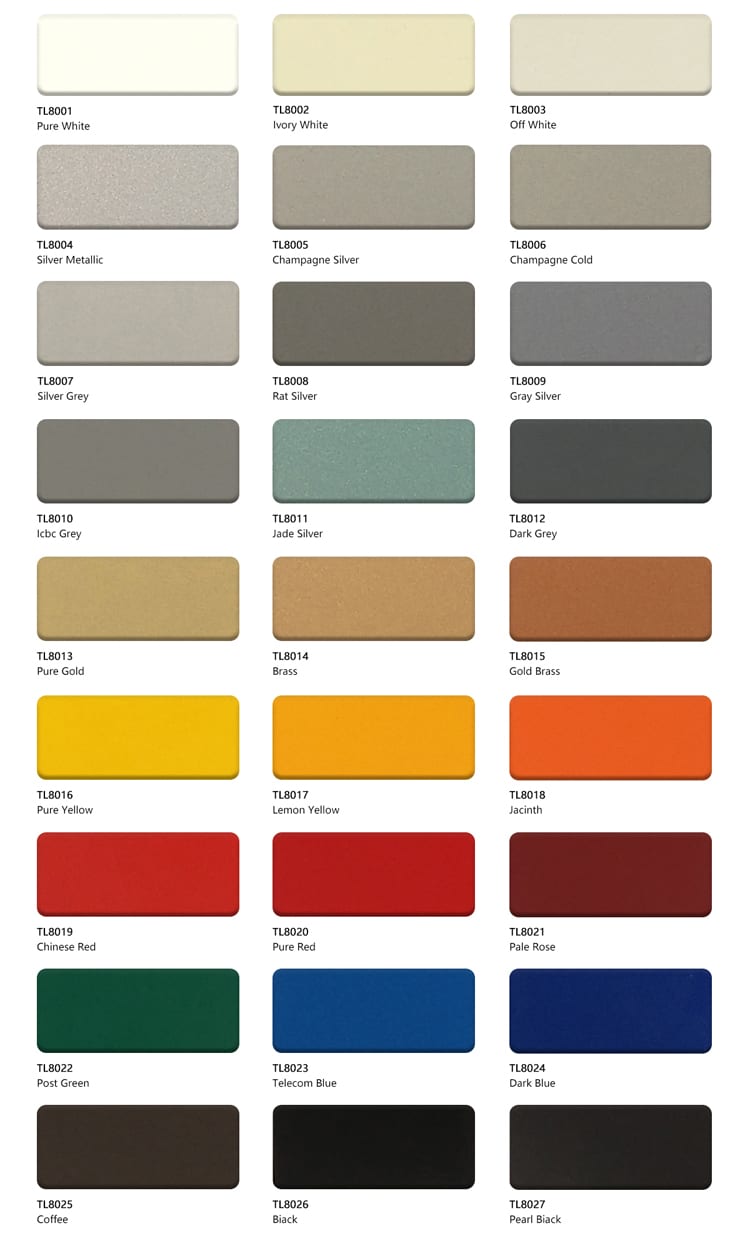 Get the Top-Notch Aluminium Composite Sign for Board Printing
Nowadays, the industries are using the composite sign with lots of benefits. However, it considers a useful role in finding out real estate signs to license plates and so on. Unlike others, we are here to give you top quality aluminium composite sign for your desires. They are considering business owners' choice for tremendous and board printings. There are many benefits available, but it discusses a unique role for appearance and longevity. It includes lots of board sign printing with lots of pieces on writing. It has best solution for business owners to get attention on arrival forever. It is widely useful for finding out with a right source to consider with the printing option.
Choose to depend on colors
It takes super, flexible material for you. Almost anything depends on flat option. In different walls, it takes holes with these panels with concrete that should be effortless. It considers a useful role in drilling holes with groups with ease. Hence, attaching an aluminium composite sign has been carrying out with different walls. It composes signs with groups with anodized with board printing. It ensures to give you a variety of colors depends on your results. So, the aluminium sign board printing with a great decorative and eye-catching effect. The composite board printing must consider a variety of panels for colors. Aluminium signboard printing also has a great decorative and eye-catching effect. We are here to give you excellent experience by deciding on a completely rust free solution forever.
Get an exceptional solution
Aluminium does not burn and utilizes a full fireproof option. It is an environment-friendly and delivers quick solution for obnoxious gasses and fumes forever. Aluminium composite signboards are very light in weight when comparing others. Therefore, they can fix anywhere without many efforts. It is entirely free to use and considers very useful forever. It requires only minimal maintenance and offers quite an exceptional solution. They can be easily flexible by deciding on the environmental protection aspects. As a result, hire our manufacturer and get the first-class aluminium composite sign forever. They are environmentally safe and finds out more by our friendly team.